WHAT IS A WASH CERTIFICATE?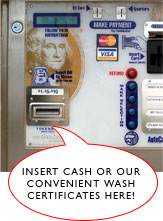 A Wash N' Shine Wash Certificate is a simple and easy way to pay for a car wash instead of using cash. Just slide the Wash Certificate into the dollar acceptor at any of our Touchless or Foambrite Automatic car washes and your car wash is paid for!
NEED A LOT OF CAR WASHES?
Are you a car dealership, limosouine service or a company with a need for a cost effective solution for high volume car washing needs? Click here to contact us for more information on how Wash-N-Shine can be of service to your company.